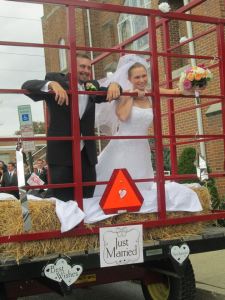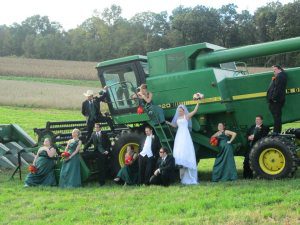 Whenever friends, family or clients have a celebration that's just a little bit of "coloring outside the lines", I'm delighted!    Pictures speak a thousand words…but in this case, one summed it up:    FUN!
On a beautiful Fall day, Luke Lichtenwalner and Tabitha Oplinger tied the knot!  October 6, 2012 was a day where you might have seen some unusual sights around the Emmaus area.  If you did, here's the story!
The newlyweds left their church, St Matthew's EC Church, in a chariot fit for…a farmer?   Expecting a limousine, Luke and Tabitha were surprised to find a tractor and a hay wagon ready to take them for a ride!   The entire wedding party began their celebration seated on stacks of hay in the back of the wagon.
No traditional rose garden photos for these two; they visited family farmland and posed for some very special "outdoor" pictures.
Born to a family where Black Angus and chickens were part of the "backyard", Luke's love has always been the farm.   Restoring a stone farmhouse on the property, Luke and Tabitha will continue the family tradition of farming in Upper Milford Township.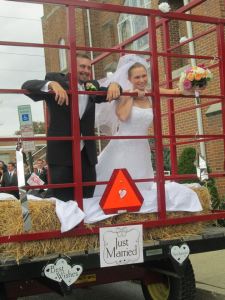 Photos courtesy of the groom's mother, Gail Lichtenwalner.