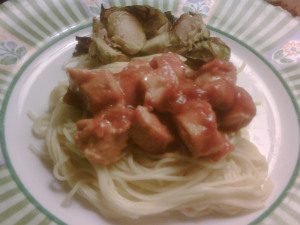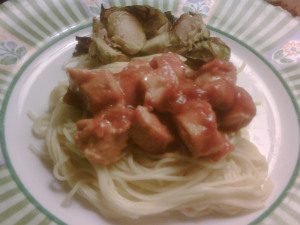 While we "do" insurance, we also eat.  Hence, finding fast and yummy recipes is also part of my mission!
This is one of those "throw it together in 3 minutes" bake for an hour or so and it's DONE!
For one pound of chicken (skinless, boneless white meat) you will need 1/2 of a 10-oz. jar of apricot preserves (we like Polanar, very natural)…1/2 bottle of Russian Dressing (any brand is fine!) and 1/2 dry packet of onion soup mix (has to be Knorr's…awesome!)….mix it all together.
Chop the semi-frozen chicken into chunky cubes (much easier to cut when it's partially frozen) and stir into the sauce.  Pour that all into a shallow baking dish and bake at 375 degrees for 1 to 1.25 hours.  When tender and white, it's done! 
While it's cooling a bit, cook your pasta.  We like the fresh angel hair (Weis Market brand is good!) variety.  Takes like 3 minutes to cook!  Serve the chicken atop the pasta…voila! 
Side dish of baked brussel sprouts makes it VERY tasty!