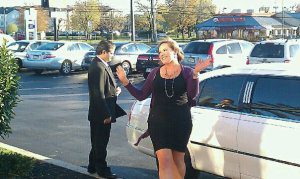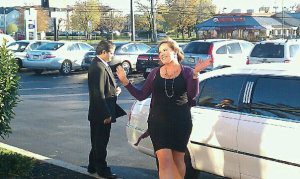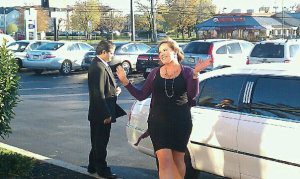 GUEST BLOGGER, Deborah Allen, Winner of our Chix Makeover 2012
Deborah's Words of Gratitude . . .
"Wow!  I almost know how Movie Stars feel arriving by Limousine to the red carpet with people cheering, and the paparazzi snapping photos . . . it's just crazy!
How can I ever thank all these people appropriately, for kindness of this magnitude?  Let me try, by starting with Donna Hosfeld and the "Insurance Chix" at Hosfeld Insurance, they are angels!  Donna Hosfeld is the head, heart, and soul behind this annual tradition of hosting an event to support a worthy cause.  It wasn't until I was selected for this "makeover" that I fully realized that the reveal event would be part of a charitable event to support a health related cause.  It seemed fitting for me, as someone who works to promote the region's largest non-profit Emergency Medical Service (EMS)/Ambulance Service – Cetronia Ambulance Corps.
! I would like to thank the other businesses who helped with my new look – from head to toe.  Or actually for dramatic effect – from toe to head; let me thank; Jen @ Shuze in Bethlehem for these adorable wedges; Anytime Sun air-brushed artist Kathy did a great job on my spray tan – otherwise I wouldn't show my legs; Lisa of Lisa Drew Wellness helped me review my nutritional goals to get me ready for the 5K later this month;  My incredible outfit courtesy of Katie Rothermel at Wearever Wardrobe, a new store in the triangle in Emmaus; my pretty nails and toes were offered by owners Nancy Ashmore & Jeanette Goff of Artisan's Salon & Day Spa;  the beautiful "bling" called Aurora Borealis and is part of the Fifth Avenue Collection of jewelry compliments of Marisol Sosnowski; my pearly white smile is compliments of Dr. and Esther Rolland of Oral Dynamics; the amazing work done by Dr. Thomas Young of Young Medical Spa in Center Valley created the canvas for Natalie Feeley to do her makeup magic with Bobbi Brown Cosmetics; Janine at the Nail Division in the Lehigh Valley Mall added my movie star lashes; and Anne Giglio at Silver Shears, in Allentown, topped it all off by giving me an amazing cut and color that just pulled the whole new look together
I must also like to thank J&J Luxury Transportation for giving me the "star treatment", and Elysian Fields Floral Design for the stunning arrangement, and Bob's Flower Shop for the fun balloon arch.  I'm also looking forward to working with Elizabeth Sanchez of Blaze Consulting/Coaching, and Mary Wilson/Linked in Coaching for their efforts to assist me with my new image.
I truly feel like a new woman . . . and after twenty-three years of marriage my husband was visibly pleased (but, with just the appropriate amount of enthusiasm – smart man that he is)!
But beyond my exciting new look, what is truly amazing is how this entire story started to unfold from the moment that Donna called me and told me I had been selected for the "makeover."  You see, what started to evolve was the story – behind the story.  Honestly, I applied for the makeover on a whim after hearing about the opportunity at a women's luncheon in February, just days before the entry deadline.  It was at that very event that my "before photo" was shot as a special offer to those attending the luncheon!  My request for the makeover was submitted based on my personal commitment to be the best me I could be as I quickly approach the big "5-O" this year. However, I didn't share in the essay that my personal health is such an important issue to me because just a year-and-a-half ago (just a few days after my 48th birthday) I had a major scare after a first-and-only bout of vertigo (severe dizziness).  The results of the experience after numerous tests was the diagnosis of a small meningioma (brain tumor), that although not life threatening – was a major life changing moment for me!  But even that was not the beginning of this story.  The real important part of this story is that what goes around comes around.  Three years ago I was working for Lehigh Valley Health Network as a Development Professional helping to raise funds for the new (at that time) Regional Burn Center when I received a call from a gentleman whose young son had been treated at the Burn Center.  He and his wife wanted to make a gift in support of future treatment and recovery of burn survivors.  Ironically, I had just accepted another position (with Cetronia Ambulance Corps) and therefore connected the grateful family with one of my colleagues in the LVHN Development Office.  What later revealed itself is that it was the Ferdock Family, who I had the first interaction with at LVHN, was the family whose generous gift helped to establish the Scar Physiology Treatment and Research Fund which which helps burn survivors lead more productive lives through advanced scar management processes including laser treatment, exercise, massage and more.
Again, I feel so honored to have been chosen to have this very public makeover to help raise funds for a cause which assists others who are going through a private and often painful transformation as burn survivors.
My life has truly been blessed . . . . "
Deborah Allen