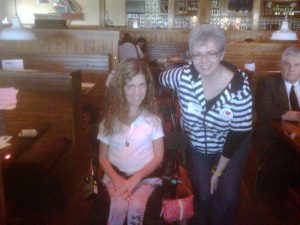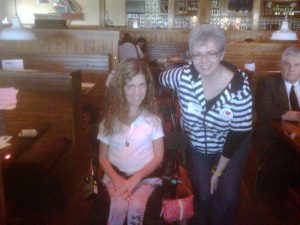 Meet Alexa.  She's cool.
Today was the end result of a few weeks of fundraising for the local MDA (Muscular Dystrophy Association) here in the Lehigh Valley.
Each year, these fine folks contact business and community leaders, persuading us to be "locked up for good."   Escorted to "jail", we inmates do all we can to "make bail" and get out.  We ask everyone we know to help contribute some funds for a very worthy cause.  It's a lot of fun and it isn't that hard to do.  So, you say yes.
With the addition of social media in this year's toolkit, I figured it would be easy to fundraise via Facebook and Twitter, too.  So, after a few weeks, I'd raised a fair amount of funds and was looking forward to the "lockup."   It's entertaining…they pick you up in a limo, take you to Outback Steakhouse for some photos and give you one last chance to call folks while you wait for your meal.  Outback Steakhouse provides a generous, delicious lunch.  For every "fresh" $25 donation you receive on site, you get a raffle ticket.  Prizes can be won!  But this year, something far different was in the mix.  I met Alexa.
As I scrolled through the old Blackberry, trying to find one more contact to call, I saw movement from the side of my eye.  I heard a sweet little voice, someone was here to say hello.  As she wheeled beside me to chat, I couldn't mistake the energy and glow about her for anything other than pure joy of life.  Her eyes sparkled and she spoke about how great the camp in Lansdale was.  She made the whole thing very real.  It wasn't about my online donation site showing increasing numbers, or the limo, or the funky striped outfit.  This was a person who had really benefited from the efforts of each and every person who agreed make a pledge.  SHE was the reason we get involved and bother to do this stuff.
We talked about how we love Facebook and Twitter.  We're planning a local effort to collect "camp supplies" for the place she loves in Lansdale.  She said, "It's a place where I get to feel just like everyone else there, not different."  I've visited her website and am astounded at the number of things we didn't cover in our table chat.  An interesting and vibrant 17-year old who is on a path far different than many of us.  Someone with an absolute mission, a very clear purpose.
Visit www.alexadectis.com and get to know her.  She has links there for the social media sites, too.  She's local.  She's from Allentown.  She's REAL.
And this year, she was my best memory of the MDA Lockup…no doubt.