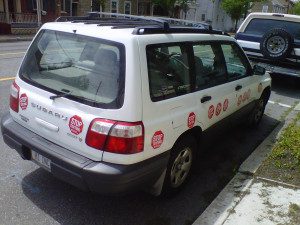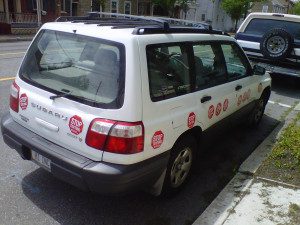 We're passionate about our magnets. 
Magnets?  Yes, we have distributed hundreds of them in the last few months.  In partnership with Lehigh Valley Health Network, we have shared them with clients, friends, strangers…everyone!
We hand them out at the office, take them along to meetings and events…we even encourage folks to peel them off of our car and the office front door.   We're all about sharing!
Why do we care so much?  Well, distractions are one of the most preventable causes of accidents.  While there are many different kinds of distractions, these magnets address the volatile issue that is on the front page of every newspaper.  Lots of folks text.  We just don't want them to do it while they're behind the wheel.
Every year, we have claims that "didn't need to be".  In a second or two, lives change.  In a second or two, lives end. 
What are the distractions that cause accidents?  Well, they're an unending list that includes music, passengers, billboards, dropping an item on the floor, phones, conversations, pets, food, drink…and more.  Anything that demands your attention for "just a second" is enough to get your eyes off the road.
Being aware of these things is the first step to controlling the end result.  Taking responsibility for your own driving habits and those with whom you drive is important.  Talking about it with others is always interesting.  Sharing the information with your kids is another excellent way to get the idea started early.
We have a contest on Facebook.  It's a coloring contest for kids.  It's a picture of a dog holding the "STOP TEXTING" magnet.  The best efforts will receive movie tickets and more.  It's just one more way to share the message.  Watch for our winners on 7/18/11.
Visit us on Facebook for more details:  www.facebook.com/hosfeldinsurance and find the contest under "EVENTS".