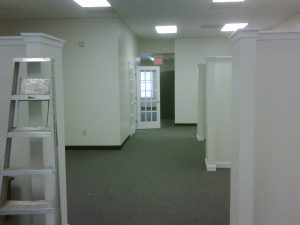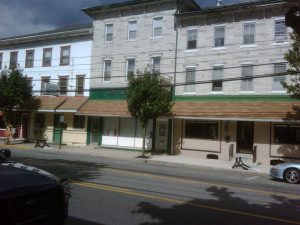 Honestly, we are a little crazy!  If you have been with us awhile, you know we ARE!  But in a good way!
As you recall, we relocated to Main Street Macungie back in February 2009.  We've had a fabulous time here.  It's a great little town and we've grown tremendously with YOUR referrals!  Thank you!
Well, opportunity came and knocked!   An awesome building about a block away became available and we've decided to zip on down the street!  It's the one in the middle, behind the tree!
We'll be moving in mid-November, but nothing really changes for you!  We'll have the same phone number, website and email address.  Our entire space is "first floor" so it'll be easily accessed.  On-street parking is available, no meters!
We'll be having an open house sometime soon.  We hope you'll be able to drop by and say hello!  For you locals, it used to be Buchin's Hardware…and long, long ago it was the Macungie Bank!   (19 E. Main Street)
It wasn't our intent to move again so soon…but you know what they say about opportunities.  We're really excited about it and hope you are, too!
Check out the inside!  We'll have it ready for visitors soon!