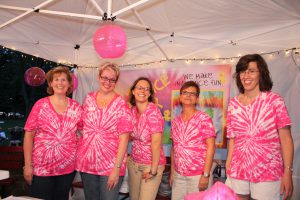 The fundraisers our agency hosted in the last two years were a lot of fun.  We did the Perfectly Pink Purse Party in October 2011, netting $4,500 for Lehigh Valley Health Network's Pink Ribbon Fund.  We followed up with our Chix Makeover in April 2012, netting $3,500 for Lehigh Valley Health Network's Scar Physiology, Research and Treatment Fund (a part of the Burn Unit).
So, we wondered what we could do this summer.  The Emmaus Special Entertainment Commission approached us about helping out with a summer concert.  Many small towns are now looking to small businesses to help out with funding the ever-popular concerts and events that build the community.  Sounded like a great idea to "give back" to the community AND have a festive, fun time at Emmaus Community Park's Arts Pavilion!
Star of the Day Event Productions, owned by Kirsten Rani Almeida Egan, brought "Make it 3" and the "Star of the Day All-Star Singers" to our little village!  They knocked it out of the park, serenading us with favorites from Pat Benatar and Bette Midler to the Beach Boys.  The Beach Boys medley was great fun, with the lights going up, hot pink beach balls being tossed around, and the crowd heartily singing along!
Special thanks to Rita's Ice of Emmaus for bringing the refreshing italian ice!   Tonya Ruppell's Stone Soup Design jewelry was also on site, with HUNDREDS of one-of-a-kind hand-crafted wire-wrapped stone creations!   Beautiful stuff!
Many of those attending sported their favorite tie-dye items, the "official" outfit of summer, right?  It was a sea of neon beauty!   Check out our pictures!  Special thanks to Terree O'Neill Yeagle of The Moment Photography (www.themomentphoto.com) and Ian Dollman of I.R. Dollman Photography.  There may be a few shots from my iPhone, too.  But the good ones are theirs!
Thanks to all who attended!  We hope you had a great night wearing your tie-dye and glow necklaces, eating ice, and shaking your groove thing to the music made by the fabulous talent on our stage!  Thanks to Jenae Holtzhafer and Shelly Steiner of the Special Entertainment Commission, too, for asking us to "come out and play"…it was a night of making wonderful memories!
Hosfeld Insurance and InsuranceChix.com are delighted to have sponsored this awesome night!  Located on Main Street in Macungie, we're a full-service insurance agency who would love to earn your business!   Please come meet us when you're in town!  (19 E Main St., Macungie)