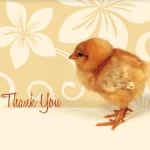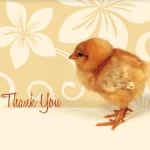 June 1st was an important day.  Still can't quite believe it's true.  We just celebrated 17 years of being an independent insurance agency.  As you gasp about me being really old, keep gasping, because it's also my 27th anniversary of "working in" the insurance field.  I had a life as a claims adjuster before I opened the agency.  So yeah, I'm pretty much "seasoned" by now.
Just want to say thank you to everyone who made the journey possible.  In the beginning, we had less than five folders in the cabinet…we checked the phone over and over again to be sure it was in service, we wondered if we would be around for our "five year" mark.  And here we are, rolling into our 18th year.  We are delighted to be a "flock" of chicks, five plus me.  We continue to grow our book of business and we have a solid retention ratio that indicates the loyalty of our clients.
We appreciate your trust in allowing us to craft your insurance programs.  We value your friendship.  We squeal every time you send a friend our way for insurance.  And we treasure the opportunity to help you when you have a question or a claim.
Never thought we could be at this anniversary so quickly.  Time flies when you're having fun.  And this 17 year journey has been a supreme amount of fun.  Thank you so much for bringing us to this point.