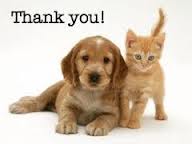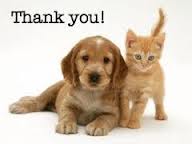 Many of you have been asking about what the prizes are for our silent auction and the ticket raffle tonight at the Purrfect Pedigree Purse Party.  Here's a list!   First, it will help you find the items YOU want to win.  Second, it is a big and hearty thank you to the awesome and generous folks who have graciously donated so many great things for a worthy cause, Animals In Distress of Coopersburg.
$100 gift certificate for boarding at Queen of the Valley Farm Pet Resort
Crave Cupcakes by Tamara (1 dozen gift certificate)
Lehigh Valley Zoo Family Four-pack of tickets
$25 gift certificate for Blackforest Deli
$100 gift certificate for 100 business cards by Alternate View Concepts/Ted Laskowski
30-minute massage, Kneading Hands of Bethlehem & Emmaus
30-minute massage, Kneading Hands of Bethlehem & Emmaus (yes, two total!)
$25 gift certificate for Bel Bijous dog apparel
1-hour massage from Roots of Vitality, LLC
$300 tax preparation gift certificate from Business Support Solutions
Gift basket of embroidered guest towels from Stitchin' Witch
Santa cookie jar gift basket from Jack's Glass
Dog bowl gift basket from Jack's Glass
2-hour massage from Marie Ruxton
Doodie Pack, (portable dog waste disposal jacket for dog)
Purple "31" tote from Jennifer Eck
$25 gift certificate and basket from No Worries Pet Sitting
Tie Dye Purse from Tie-Dye 2 U
Tie Dye dog t-shirt from Tie-Dye 2 U
Large tote bag from House of Minerva
Dog spa basket with shampoo++ from Doodie Calls
Plaid designer purse
Gift basket with spray tan foam & exfoliator from Ideal Skin by Louise
Copper/sterling silver one-of-a-kind "pawprint" necklace from Lisa Boland Jewelry Designs
$25 Jewell gift certificate/basket from Judy Lichtenberger
"31" insulated bag from Judy Lichtenberger
2 pounds of fudge from Freckle Face Fudge
Black Walnut Necklace from Woodpecker Studios
Baby Items gift basket and gift certificate from Ju-Ju Monkey
Family or individual outdoor portrait gift certificate from The Moment Photography
$20 gift certificate for The Clothing Tree (children's items consignment event)
$25 gift certificate and basket from My Smart Hands Lehigh Valley
1-hour massage from Weaving Hands of Bethlehem
And great thanks to everyone who contributed items for the SWAG bags!
Kneading Hands Massage
Glass Doctor of Lehigh Valley
First Service
Bel Bijoux
True Blue Auto Glass
Business Support Solutions
Crave Cupcakes by Tamara
Duraclean
Jack's Glass
Queen of the Valley Farm Pet Resort
House of Minerva
Doodie Calls
No Worries Pet Sitting
Clothing Tree
It Works
Big Brothers & Sisters of Lehigh Valley
Judy Lichtenberger
Jennifer Eck
Stone Soup Designs
Terry Schmeltzle
Lisa Boland Jewelry Designs
Stitchin' Witch
Gopher Services
Ju-Ju Monkey
Big shout out to Bruce at Boston's Restaurant in Allentown for allowing our party to take place and donating 15% of the receipts to the charity!  BIG woo hoo!  Thanks for being a great community partner for us!
Also, special thanks to Howie Gelbert at Cantone Press for the print work on the beautiful color flyers he prepared and donated for the event!
Great appreciation to Gail Hoover and Prolifick Radio for the recent radio interview to get the word out!
Thank you to every single person who kindly dug through a closet to find a new or gently used purse to donate!  Your willingness to share your "retired" handbags will make an amazing difference to so many! Not only will the new caretaker of your bag love it, but the monies raised will help this deserving shelter continue caring for many pooches and kitties.  Thank you as well to Abundant Style for the 30 special purses you donated!
Finally, thanks to the awesome volunteer force at Animals In Distress and the lovely team of Chix at our InsuranceChix office who helped in countless ways.  YOU ROCK!
If I've missed anyone, please email me and I'll apologize profusely and add you to the list pronto!
POST PARTY TOTAL: Including the $2,500 "award" we received from Erie Insurance Group as "Giving Agency of the Year" as a starter for the event, our grand total after the party comes to $6,820!  Woo hoo!   Thanks again to all who donated purses, services, products, vendors and restaurant, and everyone who played any part in this very successful event!   THANK YOU, THANK YOU, THANK YOU!
donna@hosfeldinsurance.com