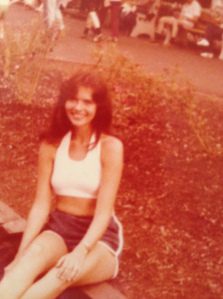 I saw a post on Facebook the other day.  It stuck with me and I had to post this blog.
One of my friends posted  before and after pictures of a child who had a successful weight loss using a supplemental product.  I don't know a lot about the product, but I know that it reminded me of the burden of additional weight at any age.   Some peeps were supportive of using such a program, some were not.
As a kid, I was quite heavy.  That's the nicer word for it.  But we all know the one that other kids used, right?  "F" words are never a good thing.
My folks tried to support me, but back in "those days", the family meals involved sausage, scrapple, macaroni and cheese, fried potatoes and more.  No grilling, except for hot dogs.  Broiling was done to get the cheese melted, it didn't involve fish.  Desserts included homemade doughnuts, sticky buns or Tastykakes.  Oh, let's not forget the ice cream and waffles!
All the recent back-to-school pictures on Facebook helped me remember those shopping trips to the "big girl" department at Leh's Department Store.  Ugh.  The styles were awful, but at least things "fit" and I could get the zipper up.  Fashionable?  Please!
As I got older, I tried "Elaine Powers", the ladies fitness facility.  I gave the Grapefruit diet a whirl.  I'd lose a couple pounds, then gain it back.   At 18, I decided to run every day and consume only a liquid cherry protein drink.  Yeah, not such a brilliant idea.  I got REAL skinny, but not real healthy.
Eventually, proper portions of high quality food and reasonable activity were the answer.  What an amazing discovery of such a big secret!  Overall, I'm okay with my current composition.  The BMI charts recommend I lose a few more.  And I'm trying to do that.  Logically…healthily.  Found a great little app for my I-Phone called "My Fitness Pal"…check it out, truly a brilliant creation!  It actually makes all the calorie counting and exercise logging FUN!  And I'm all about that!
Anyway, on that original post, there were differing opinions about whether a shake or substance could or should be used by a kid.  Optimally, I agree that whole foods and increased activity are the answer.  But I also know how very hard that was for me to see when I was much younger.  I also know that as a kid, a "jump start" to progress is sometimes what is needed to latch onto the bandwagon.  Getting excited and knowing you can really do it makes a difference!
At 13, had someone told me that standing on my head and eating ladybugs would drop the weight, I would've done it.  Whatever someone's personal challenge is, at 13 it is worse.  Peers can be nasty.  Comments can sting.  Whether it's weight, acne, or any other "thing" that makes you different, others are not always sensitive or ready to embrace it with you.
As the kids go back to school, let's all be aware of some of these situations that can resonate for years to come.  Investigate options to focus on wellness and health, encourage physical activity, prepare meals that are tasty and nutritious.  Build a framework that will support them into adulthood.   You and I are the role models.  Let's make sure we're giving them what they need to be healthy adults.
In honor of "back to school" week, here are some pictures from when I was a kid…chubby (ick, is that word any better than the "F" one?) and despite the smile, pretty miserable.  The sitting one is when I was borderline nutty with the liquid cherry slop.   Looking pretty good, but feeling weak and sick most of the time.
Acceptance at any weight is important, I agree.  Being happy with yourself and who you are inside is what it's all about.  But body image also plays a role because it affects how we move, how we think, how we feel, and how others perceive us.
Nope, this wasn't about insurance.  But I'm not only about insurance either.  We all have many layers and this is one I wanted to share after that little post got me fired up!
Let's support the kids and commit to being the healthiest and fittest versions of ourselves we can be!   Can I get an AMEN?