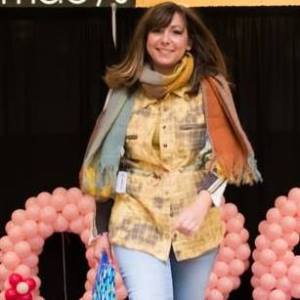 You never know.
You never know the impact of a moment in time.  About four years ago, we held a fundraiser for Lehigh Valley Health Network's "Pink Ribbon Fund".  It's an organization that helps fund patients undergoing breast cancer treatments for items that may be a financial burden outside of their health insurance program.  
It was a FUN night at Boston's Restaurant in Allentown.  Loads of Lehigh Valley peeps came out and bought raffle tickets, ate from a cake that looked like a big purse, purchased "gently worn" purses we'd collected (unbelievably, over 600) and enjoyed dinner and drinks.  We asked a local "celebrity" to be a guest bartender. (Thank you for making the introduction, Dina Wanamaker!) It was Christine Bainbridge of the band She Said Sunday. I didn't know Christine at that time, except for Facebook, but her sparkle and enthusiasm behind the bar let us know we'd made a wise choice.
Our fundraiser brought $4,500 to the LVHN "Pink Ribbon Fund", so we were pleased!
Imagine my shock when I read a Facebook post of Christine's a few months ago that revealed she was now someone other than my celebrity bartender.  She was now "the PATIENT."
I've asked her to guest blog and share her recent journey and some of the things she's learned.   Take it, girlfriend:
"Christine, this is Dr. Gittleman" As soon as I heard his voice, I knew, but I waited for him to say the words. "We have the results of your biopsy back and it shows a small cancer." It was Friday, December 5th, and suddenly, I had cancer and my life was completely different.
When you hear those words, "You have cancer," all of a sudden, words like surgery, chemotherapy, radiation, survival rates pop into your consciousness. My first thought was, how am I going to do this? Not only did I have a full-time job, but I manage my very busy band, Sunshine Symphony, and we play every weekend during our busy season. And equally as important, I help my boyfriend raise his two little girls who are 5 and 7. "How am I going to do this?"
My friends and family dubbed themselves "Team CB," and vowed to keep me laughing throughout the difficult process. My boyfriend Ricky also pledged to follow me, singing the "Eye of the Tiger" song every time I went for a doctor's appointment. He kept his promise, and although everyone in the medical building looked at us strangely, it took the edge off the fact that I was about to find out about what my treatment recommendations were.
We explained to the girls that "CB" (that's what they call me) had cancer and that she was going to have surgery and then a special treatment to help the cancer from coming back. They rallied along with me, too, wearing the Team CB shirts their Dad had made. My main motivation was to show them that I was strong and brave, especially on days when I felt neither strong nor brave.
Of course, my first thought "How am I going to do this," assumed that I was going to go through cancer alone, which was the opposite of the truth. Thanks to help from Ricky, my family and friends, we scheduled our performances around my treatment. My workplace allowed me to take an early lunch so I could go to treatment every day at 11. Ricky and my Mom pitched in around the house and the girls, ever so sweet and understanding, played Uno on the couch with me and let me nap on days I was worn out. I found support and answers to questions on the Living Beyond Breast Cancer message board for Young Survivors.
As I go through the "new normal" post-treatment, sometimes I struggle to find the right way to channel my renewed desire to help others, especially those going through cancer. What can I do? How can I help? Although I'm still exploring the answers to those questions, I try to practice being "present," soaking up as much joy as possible and sharing that with others.
THANKS CHRISTINE.  Your willingness to share and be open and real is awesome!
Christine can now be found performing with Sunshine Symphony.  Visit www.sunshinesymphony.com