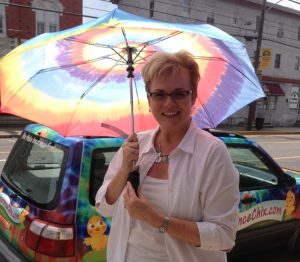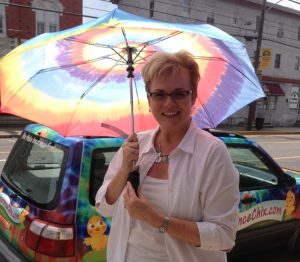 Ever excited to find any item that's tie dyed, I ripped open the UPS package with wild abandon.  My tie dye umbrella!  Pennsylvania Dutch superstition made me refuse to open it inside the office, so I ran outside!  One of the Chix quickly snapped the picture and I was inspired to write this blog!
An umbrella policy is something you need to consider.  It can protect you from the financial catastrophe you might suffer if you find yourself liable for something like a bad car accident, an incident at your home, or one of ten thousand other examples that could rock your world.
Being negligent means you did something wrong or you failed to do something right.  Sometimes people get hurt when that happens.  Or worse.  Protecting your assets and future earnings is important.  You work hard.  You want to keep what you've earned.
Who needs one?  Lots of folks!  Anything can happen.  In the blink of an eye,  you may find yourself the target of a lawsuit.  Do you have pets?  A swimming pool?  Do you drive a lot?  Do you have a young driver in the household?  Do you want to sleep better?
An umbrella for $1 million of coverage is often under $250/year.  If you have fewer than the average number of cars and no youthful drivers, it could be even less!
Talk with us today about this important piece of your insurance puzzle!  You never know when it might rain!  610-530-0304 (PA ONLY)