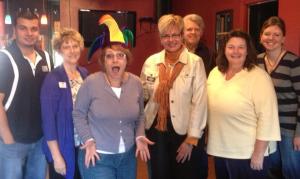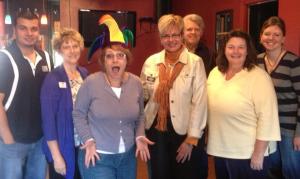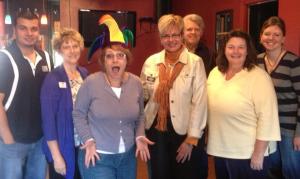 As you can tell, being a business owner requires us to wear MANY hats.  Thanks for being adorable, Rita Guthrie of Open Door Public Relations!
As you start out, you'll find that you'll end up doing many things yourself.  In the 15 years of Hosfeld Insurance, I've found myself doing everything from shoveling snow to scrubbing a toilet.  But there are several things I left to the professionals.  I urge you to do the same.  When you begin, and as you grow, you will value having a team of folks to help guide you.  Make sure you find a great accountant, lawyer and insurance agent.  If your business requires, you may also depend greatly on a computer guru, realtor, and lender.
Don't even consider opening your door, or beginning to hand out business cards until you have secured the right insurance.  When you begin to do business, you have opened yourself up for risk.  Depending on the business, for as little as $250/year, you may be able to cover that exposure.
General liability insurance will be important so that if you are found legally liable for something, you'll be protected.  You would not want to handle it from your own pocket, would you?  Even if you don't have an actual "storefront" where people visit, you may be exposed by the cupcakes you sell, the products you make, the list goes on.
If you have a vehicle used for business, you may wish to consider a commercial auto policy. No big price difference from a personal auto policy, but it may expand coverage for the new exposures you have.
Property coverage may be an option if you have a building to insure or simply your business personal property.  If a loss occurs (fire, theft, hurricane, etc.) would you be financially able to go out and buy all new computers, desks, equipment, and stock?  For very low premium, these things can be covered!
You've grown to the point that you need help?  Be careful and cautious and know the legal implications of having an "employee".  Be especially cognizant of the governmental definitions that clarify when someone is a true employee. Penalties for failure to carry the proper workers compensation insurance can be steep.
Did you know that life insurance should be part of your plan?  If you have a partner, it can be especially important.  Your spouse may not be able to afford a buyout of your portion of the business.  By using life insurance in this way, you can insure that they will be able to do this, leaving your partner free to run the business.  Many times, the surviving spouse would have no desire to be in the business.  This is a way to insure that everyone is placed in the best possible position after you're gone.
There are many variables.  Every business is different.  Insurance agents can guide you down the path in an objective way.  Find one with whom you are comfortable sharing your concerns, fears and ideas.  Together, you will protect the dream you've created.
For a complimentary assessment of your business, please call us at 610-530-0304.  We would love to hear about what makes your dream uniquely yours.
Photo includes local  Lehigh Valley business owners:
Carlos Roman, Sting Operation Pest Control
Christine Rothdeutsch, AsNeeded.Biz
Rita Guthrie, Open Door Public Relations
Donna Hosfeld, Hosfeld Insurance, LLC/InsuranceChix.com
Ted Laskowski, 1st Patriot Realty/Inspired Home, LLC
Rayne Reitnauer, Cold Nose Lodge