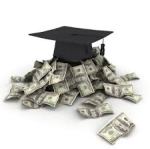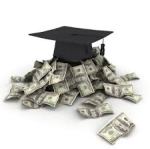 So, a recent Facebook discussion lit my fire to write this blog post.
How many of you are facing some serious debt consequences when you send that kid off to college? Costs are rising, so you probably are!
A recent news article pointed out the debt impact when the student died.  That being said, is there a smart way to protect a family from the financial hardship that ensues when something like this happens?
Yes, in a perfect and happy world, the student graduates, earns lots of money and the debt is paid off in a traditional way.
But if a car accident, health condition or other reason causes that student to pass away…the debt may remain and be a heavy burden for the family.
Life insurance is a smart and affordable way to provide that protection.  For example, a healthy 18 year old female rates out at about $123/year for $100,000 of 10-year term insurance.  That's about $10/month!  Not much more than $2/week!  About 34 cents a DAY!  Would emptying your coins from your pockets daily and losing 34 cents even be noticed?  Doubt it!
For a specific illustration for your situation, please call us at 610-530-0304. Consultations always complimentary.  We'll make it easy.  Promise.  (PENNSYLVANIA RESIDENTS ONLY)