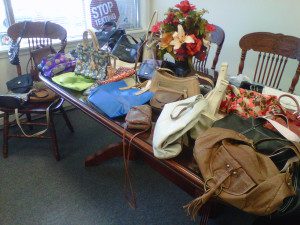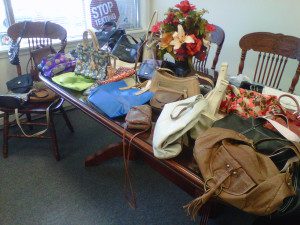 We do community kind of things from time to time.  We like to do stuff that helps folks.  And, in the process, it's just one more way to MAKE INSURANCE FUN!
Look what we're collecting…and this is only a PORTION of the collection!
On 4/11/11 from 5:30PM-7:30PM, we'll be hosting a PURSE PARTY BENEFIT FUNDRAISER.  It will help raise money for the organization called www.changepurse.org  Please check out their site and become familiar with the hidden dangers of human trafficking.  All monies raised from the purse sales will go toward awareness of the problem and support for the victims of this horrible problem.
Thanks to all of the kind people who've donated new and gently used purses for the sale!  Everyone has been so generous in providing beautiful purses that will find a new life through the sale!
We're gonna have a ton of fun, too!  We'll have a local photographer, Ian Dollman, showing his work.  It will be available for sale and proceeds also go to this charity. 
Sherry Giardiniere of Scentsible by Nature will be here to talk about aromatherapy and Reiki therapy.  Bring your questions!  She'll also have some items for sale…and stay tuned for details regarding the basket she's donating!
Cheryl Kincaid Saul from Relay for Life (American Cancer Society) will be on hand selling homemade chocolates.  Great for Easter baskets or just your long, long ride home! 
Kelly Newhall from Kneading Hands Massage of Macungie will give brief, complimentary chair massages!  Founder Tom Florio might be here, too!
Gena Florio will have beautiful crystal wine glass charms to benefit the Susan G. Komen Foundation!  You NEED these, so pretty!
Refreshments, too!
Follow us on Facebook for more details…this event is sure to be a blast!
www.facebook.com/hosfeldinsurance
Please RSVP on the Facebook EVENT TAB or by emailing me so we can plan appropriately for the yummies!   donna@hosfeldinsurance.com